Tool Boy
The Tool Boy is a unique tool mounting device for the assembling and disassembling of cutting tools on tool holders and modular tools.
The head can be rotated 360 degrees, allowing convenient access for all operations in one set-up. The clamping can be forced down, rather than horizontally, allowing the Tool Boy to be installed on tool carts. The head is secured in the horizontal position for locking the tool, which means that substantially less force is required to achieve optimum torque transmission.
With the Tool Boy, you eliminate damage to your machine spindles - advantages which pay off very quickly!
Here is a rotatable and indexable Tool Boy in action.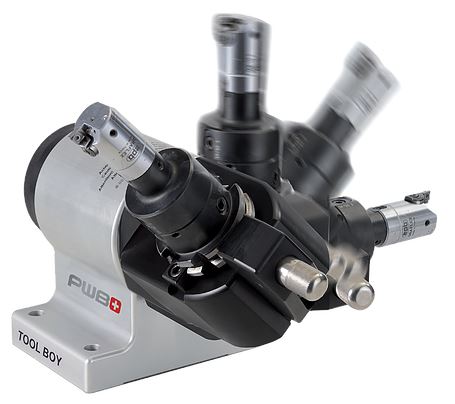 Key Benefits
Requires minimal space on workbench 140 x 100 mm
4 x 90 degree indexable
High degree of user safety
Optimum position for all manipulations on tooling
Prevents tools from injuring hands
No spine torsion thanks to horizontal tool position (e.g. tightening of milling cutter screws)
Reduced energy level due to optimum ergonomics
Safe tool handling - even of heavy tools - thanks to automatic locking in the desired working position
Optimum protection of ground tool shafts thanks to brass taper sleeve
Improved tool clamping ensures longer tool life and protects machine spindle
No need to re-clamp tools to perform different tasks
No wear as major elements such as clamping dog and locking disc are hard anodised
Available for ISO / HSK / KM tapers VDI turning tool and now Sandvik Capto among others
Bespoke modifications available
Basic unit Tool Boy modular suitable for all tool systems

Mounting on table or tool cart
Rigid interface between basic unit and tool holder

Art. Nr. 400500

Bracket for 2 tool holders for table and wall mounting

Art. Nr. 400510










Tool Holders
Size
Part No.
DIN 69871
DIN 2080
JIS 6339 (MAS-BT)
ANSI -CAT-V-Flange


SK/ISO 30
SK/ISO 35
SK/ISO 40
SK/ISO 45
SK/ISO 50
400520
400524
400521
400525
400522
DIN 69893
HSK - Form A




HSK-A32
HSK-A40
HSK-A50
HSK-A63
HSK-A80
HSK-A100
400544
400545
400540
400541
400542
400543
DIN 69880
VDI 3425




VDI 20
VDI 25
VDI 30
VDI 40
VDI 50
400580
400585
400581
400582
400583
KENNAMETAL
Widia/Tizit




KM 32
KM 40
KM 50
KM 63
400553
400550
400551
400552
SANDVIK
Capto




Capto C3
Capto C4
Capto C5
Capto C6
Capto C8
400135
400136
400137
400138
400139